Sacred/Hymn Arrangements
Come, Thou Long Expected Jesus is a haunting setting of the venerable Sacred Harp tune. Appropriate for general use or in the advent season—SATB (div), unaccompanied.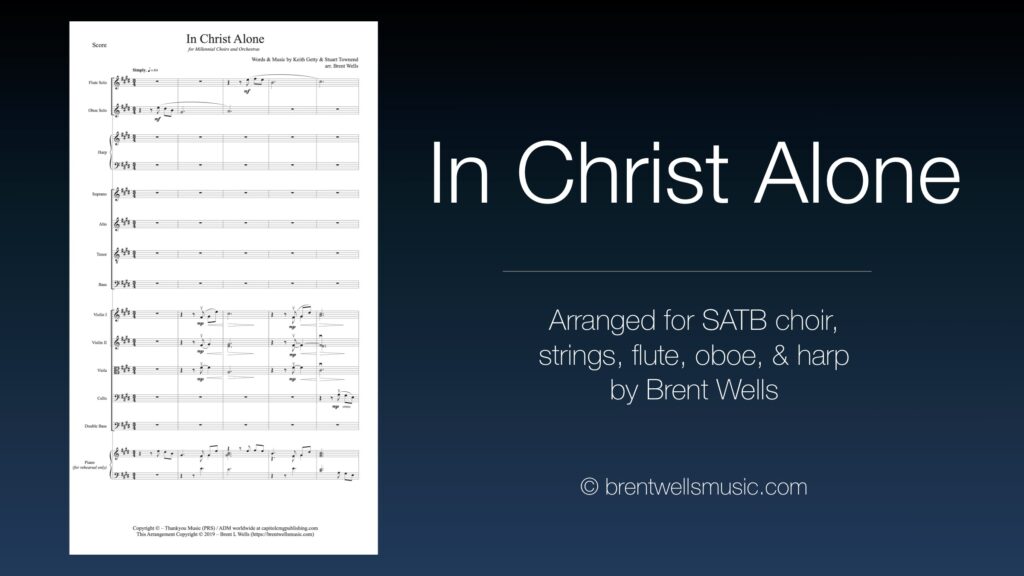 In Christ Alone is an immensely popular contemporary Christian hymn arranged in a reflective choral-orchestral setting—SATB (div), strings, flute, oboe, harp; also available with piano reduction. (used by permission)
(c. 5 min)
It is Well With My Soul is one of the best-loved hymns in the repertory. This arrangement is full and lush—SATB (div), unaccompanied.
Love at Home is a poignant 19th century hymn arranged in a lilting 12/8 meter—SATB (div), unaccompanied.
Sing Praise to God is a classic hymn from the 16th century, set in a new rhythmic style. Perfect as a concert or set opener— SATB (div), unaccompanied.
(published by Walton Music)
There is a Green Hill Far Away is an arrangement of the hymn tune "Meditation" by John Gower with text by Cecil Alexander—SATB (div), unaccompanied.
We Sing the Mighty Power of God is an energetic, rhythmic setting of the old German hymn tune Ellacombe, featuring shifting asymmetric meters and a rollicking four-hand piano accompaniment—TTBB, four-hand piano, tubular chimes, suspended cymbal, and timpani.
(c. 2.5 min)
Secular/Spirituals & Folk Song Arrangements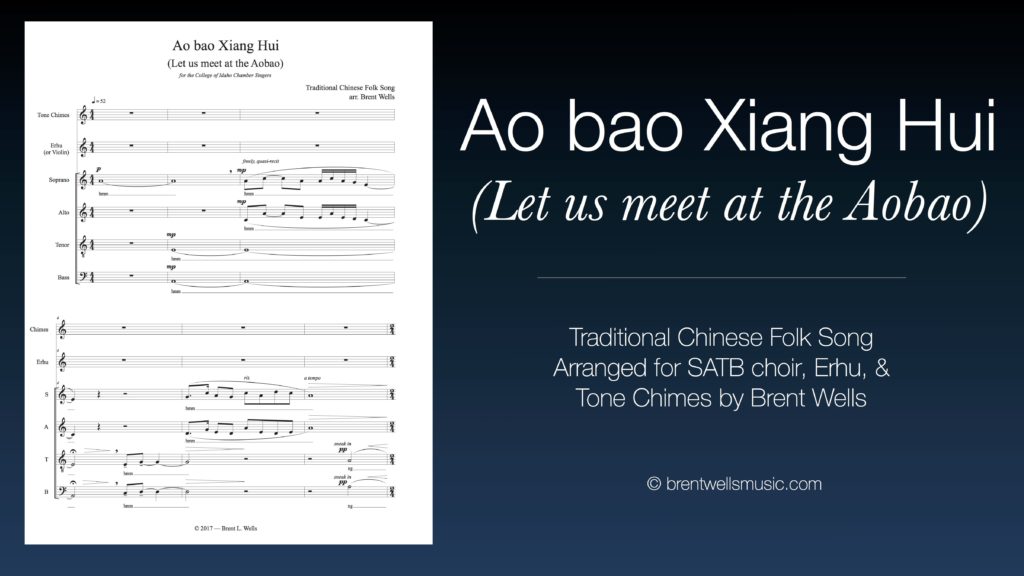 Ao bao Xiang Hui is a traditional folk song from China. It tells of a moonlit tryst between two young lovers—SATB (div), Erhu (or Violin), Tone Chimes.
(c. 4 min)
Ari im Sokhag is a beloved lullaby from the country of Armenia. In this traditional folksong, a mother sings her son to sleep with the help of a nightingale, skylark, and hawk—SATB, piano.
I Heard it from Heaven Today is a traditional African-American spiritual that starts reflectively, but builds to a climactic finish. Effective as a dramatic opener or closer—SSAA (div), unaccompanied.
(published by Walton Music)
Nguoi O Dung Ve is one of the best-known folk songs from Vietnam. It speaks to the sorrow at parting and the hope of a joyful reunion—SATB (div), unaccompanied.
(published by earthsongs)
Qua Cau Gio Bay is another of Vietnam's folk song treasures. The recurring refrain depicts the wind blowing gently across the bridge whereon two lovers walk—SATB (div), unaccompanied.
(published by earthsongs)
Suliko is one of the most familiar folk songs from the Republic of Georgia. It takes the listener on a journey through sorrow and loss to eventual joy and hope—SATB, piano
(published by Walton Music)
Carols/Christmas Arrangements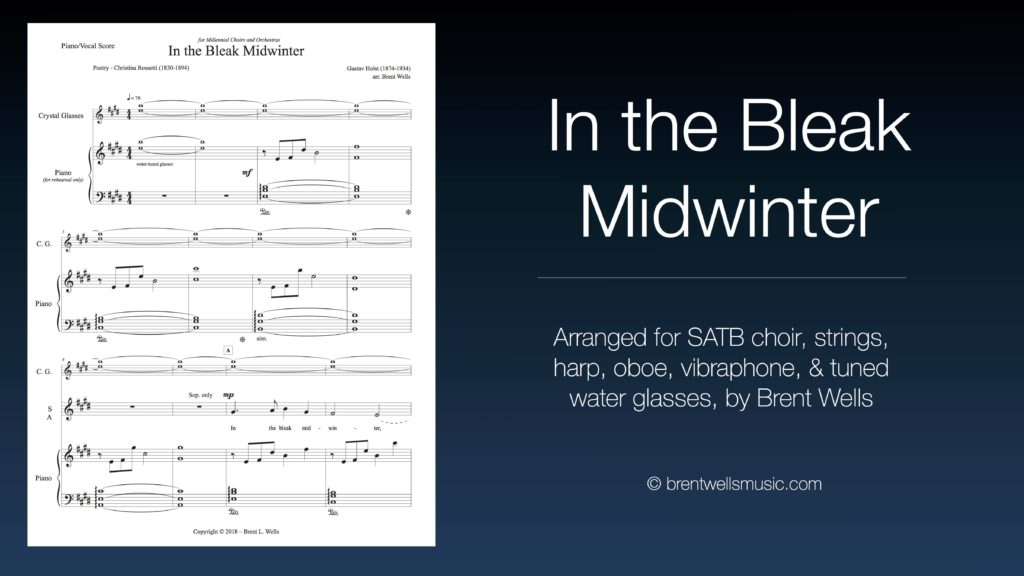 This arrangement of In the Bleak Midwinter is a large-scale choral-orchestral reimagining of Holst's venerable carol—SATB (div), strings, oboe, harp, bowed vibraphone, tuned crystal glasses.
(c. 8 min)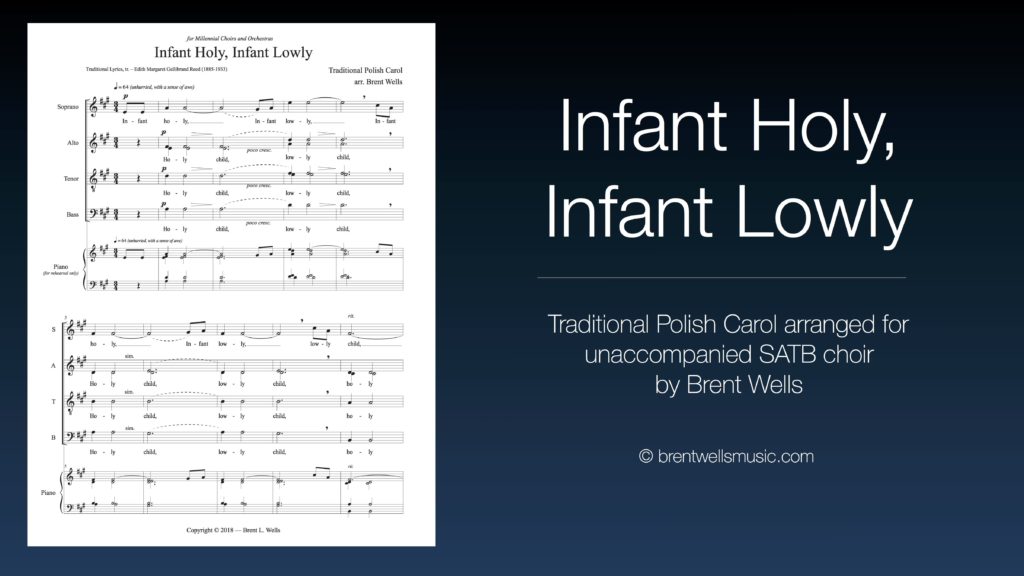 Infant Holy, Infant Lowly is a traditional Polish carol, arranged as a meditative reflection—SATB (div), unaccompanied.
(c. 3 min)